New Cleaners In Town
We started Hains Dry Organic Carpet Cleaning in 2014 by introducing "The New Way To Clean Carpet" to home and business owners in Lebanon and the surrounding area. Our specialty is eco-friendly, dry "organic" deep extraction carpet cleaning.  What this means is no wet carpets, no harsh chemicals and carpet cleaning you'll love.
Gordy Hains is the Owner/Operator of Hains Dry Carpet Cleaning LLC. This local business not only cleans carpets in a new amazing way we never heard of but they also give a portion of their profits to Parent Project Muscular Dystrophy.

Don't miss this great short video and check out their site at https://hainsdrycarpetcleaning.com

Produced by Annubis Productions

Posted by We Are Lebanon, Pa. on Monday, August 7, 2017
The Problem With Traditional Carpet Cleaning
In a  national survey that polled thousands of consumers about their most bothering issues when it comes to carpet cleaning, the overwhelming #1 complaint was that their carpet was left too wet and took too long to dry. The #2 complaint was that stains came back after the carpet had finally dried.
The carpet cleaning industry has come a long way in 40 years.
With modern low moisture carpet cleaning systems (like we use), your carpets will be totally dry in 30 minutes or less; stains will not come back;  carpets will repel dirt after cleaning; and your carpet will stay clean much longer.
We're A Local "Family Owned" Business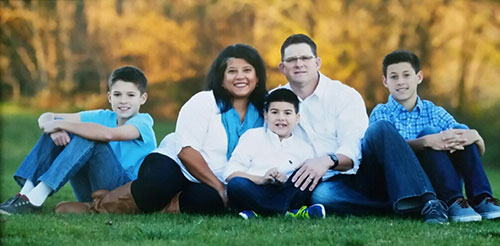 Hi, I'm Gordon Hains, Jr., Owner of Hains Dry Carpet Cleaning, LLC.  I am a husband and father of 3 sons, Luke, Lance and Levi.  I was born and raised in Lebanon County.
My youngest son has Duchenne Muscular Dystrophy, as he is the inspiration behind this business. A portion of the profits will go directly to Duchenne MD research.
When you choose Hains Dry Carpet Cleaning, LLC not only are you getting amazing, clean carpets, you are doing great things by contributing to life changing research for my son and other boys with Duchenne.
My goal is to provide all my customers with an exceptional carpet cleaning experience.  I love what I do and I take a tremendous amount of pride in the quality of work I provide.
The products we use are organic, eco-friendly and safe for people and pets.
I offer a 100% satisfaction guarantee.  Within the first 30 days, if you are not completely satisfied with my service, I will return, no questions asked!
I have investigated many methods of carpet cleaning and my "dry" method is unmatched!  I'm confident you will be amazed at the dry carpet experience.
Try the NEW way to clean carpets, Hains Dry Carpet Cleaning!
We're not trying to be the biggest carpet cleaning company in the area – but we are determined to be the best!
We hope you'll give us a try!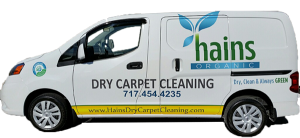 We offer a 100% Guarantee on every job we perform!
We've provided carpet cleaning services to thousands of families and businesses in Lebanon and the surrounding communities!
Our pricing is totally transparent.  There is never an up-sell or add-on.  In fact, you can schedule a time for us to come out to inspect your carpet and give you a to-the-penny quote. In other words, No Surprises!  (click here to schedule a free estimate)
You can call us Monday thru Saturday from 8am to 8pm.  For your added convenience, you can schedule your appointment online, anytime (24/7).